A 16 year old golfer has stunned the strong field of golfers by scooping the trophy.Becoming the first junior to win the Kenya Ladies Open!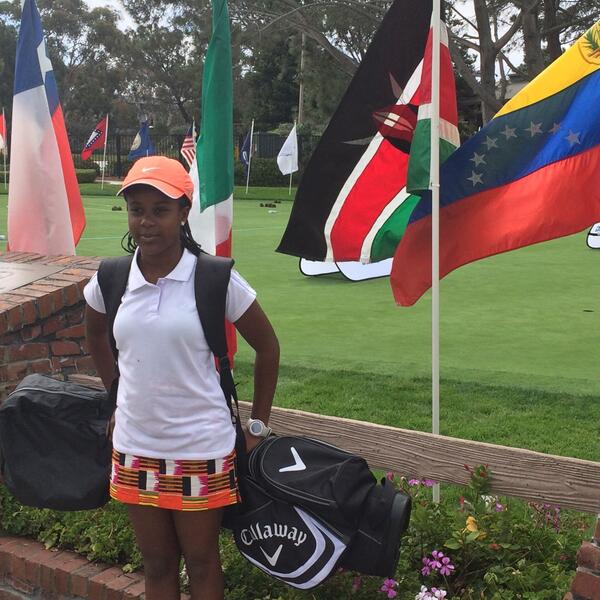 Kellie Gachaga,a junior lady golfer who attends Aga Khan Academy,was selected by the Junior Golf Foundation to represent Kenya at the British Junior Open which was held at the Kilmarnock (Barassie) Golf Club from July 11-13.
Kellie who trains at the Muthaiga Golf Club and is trained together with her sister Jaimee,by her father,Alfred Gachaga,who is also a member of the club.
The handicap-4 golfer has become the top amateur golfer in the country.
She blamed her nerves for poor performance in Round One during the Kenya Ladies Open .
This is because she was playing against the giants in golf."Ladies like Florence Maina, Mary Karano, Jane Njoroge and my friend Naomi Wafula, and I was a bit shaky throughout the round," she said.
But her father encouraged her which greatly boosted her confidence.
Just before travelling to Scotland, Gachaga competed in the KLGU's Kenya Ladies Match-Play competition at the Royal Nairobi from July 2-3.
"The Junior Open is a 54-hole stroke-play competition, exactly like the Kenya Ladies Open I won recently. The match-play contest at Royal is played in a different format. However it will be key in my preparation for my trip to Scotland," she added. "Last year, I lost in the finals of the Match-Play, I am hoping to play just as well or a little bit better,"she told the media.
Gachaga greatly complimented her compatriots.
"The KLGU have done a fantastic job helping the junior golfers grow and we are indeed very lucky. And of course we have to compete and learn from the seniors ladies like Mary Karanu, Jane Njoroge and Florence Maina, who know this game extremely well. They are so good, so solid, so steady, very difficult to beat and they are great fun as well," she said. "I admire Naomi Wafula, who is a good friend and great golfer. I hope we will one day play on the LPGA together."
Diversity of sports in Kenya is taking a great turn for the better.
Age has no limit is all I can say!
Go Gachaga!