Today millions will tune in to watch the finest football rivalry on earth spanning decades and ever entertaining as the previous.Is it? Or has the most popular match lost its flair and drama? This how it all started.
The indomitables versus the invincibles
Sir Alex Ferguson was riled. It was near the end of the 2003-04 season and a close confidant had mentioned to the Manchester United manager how utterly brilliant Arsenal's "invincibles" were. Ferguson was unwilling to even concede that, or any ground whatsoever. "Not against Manchester United," he growled. Arsenal so often felt the same way.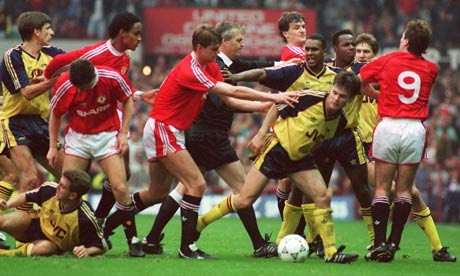 If rivalries are ultimately about raw aggression and competitiveness, this was the pairing that set the standard. It certainly raised the pulse. Over the course of eight hugely emotive years, their contests featured tunnel confrontations, ferocious tackling, players squaring up, punch-ups, two monolithic managers who initially despised each other, and even food being thrown at the infamous "Battle of the Buffet." It was really the midfielders Roy Keane and Patrick Vieira who came to symbolise this United-Arsenal rivalry, however, and the Irish midfielder who best summed it up.
"Hatred," Keane recently said. "I can't think of any other word that springs to mind when I was going into battle with Arsenal. The rivalry between ourselves and Arsenal brought energy, and passion. It was brilliant. I hated them."
That feeling was fostered by a unique set of circumstances, which created a unique series of matches. Vieira has recently lamented that the modern game is unlikely to see ferocity like it. A dominant United hadn't faced a rival like this. After five years of ruling the Premier League and seeing off Blackburn Rovers and Newcastle United with relative ease, Ferguson suddenly found an opponent in the newly arrived Arsene Wenger that set a new challenge and new tempo. Suddenly, there was a new reality. United no longer had things their own way.
That was emphasised and exacerbated by the imposing figures on the teams. A series of hugely combative leaders looked to physically force each other back, only to receive responses in kind. They pushed each other around, but also only pushed each other higher. "Ultimately, they made me a better player," Keane wrote in his autobiography.
It is also not just a coincidence of their quality that this period saw the two peak achievements in the clubs' entire histories. United had to beat Arsenal in an epic FA Cup semifinal to win the treble in 1999. Arsenal aggressively avoided defeat at Old Trafford to propel their unbeaten 2003-04 season. Wenger's side got to the point where they couldn't be beaten, but United refused to know when they were beaten.
The defining moment
In truth, there are so many. Marc Overmars' 1998 strike in a 1-0 Premier League win at Old Trafford was a declaration of intent, while Keane's late double for a 2-1 league victory at Highbury over a year later reflected United's supreme response in winning the treble. Beyond that, Martin Keown's square-up to Ruud van Nistelrooy after he had missed a last-minute penalty in the 0-0 draw at United in 2003 set a certain edge for the "invincible" season, before the "Battle of the Buffet" ended Arsenal's 49-game unbeaten run over a year later.
The fallout from the latter saw Keane confront Vieira in the Highbury tunnel, in what was to prove the two players' penultimate meeting. Arsenal's 2005 FA Cup final win was the last, but it was also that competition that offered the lasting match — the game that defined them. There's no getting around it. The 1999 Cup semifinal summed up everything this match was about and pretty much had everything: high-quality football, high-level competitiveness, controversial moments, red cards and ultimately these two teams pushing each other to the greatest heights — culminating in Ryan Giggs' famous winner. Ten years later, when Keane and Vieira met for an ITV documentary, one question lingered for the Irish midfielder about that goal: Why did no Arsenal player take Giggs down? "I would have just absolutely took him out," Keane said.