Mmmmh…she is fly and boy she is too hot to touch unless y'all wanna get burnt, lol. Hennesy, the mention of her name already makes one feel dry and thirsty. For all you wondering whether that's her name, yeah it is and slayage totally runs in the Bartier Cardi family.
Cardi B is one of the best things that's happened to pop culture since…IDK…ever, and great news: she has a sister who is also major. Hennessy Carolina is a reality star, influencer, and burgeoning fashion designer—so let's go ahead and get to know her.
She is named after alcohol
FYI, the story behind it is amazing.While Bacardi is not Cardi B's real name, Hennessy is most definitely her sister's original moniker. Why? Because her father showed up drunk on Hennessy when she was born and insisted on naming her after his drink of choice.
Remember her from Love & Hip Hop:New York
Hennessy joined her sister on Love & Hip Hop: New York during Season 7, and ended up getting into an infamous fight during the reunion episode.
The reason she did these was because of the sister code. She loves her sister and is not sorry for it but was apologetic for her savage act. The girl was been fake and was telling fake news about Cardi and that sparked her up because she loves her sister so much.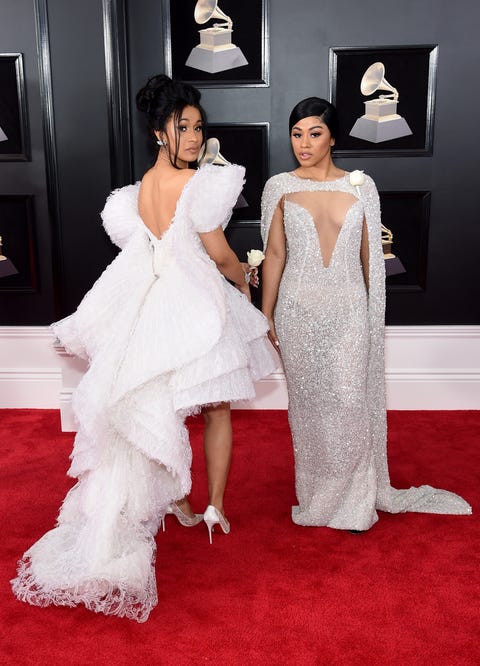 And on that note, yeah she is a feminist.
She has a girlfriend
Sorry boys but she likes girls. Carolina has a girlfriend, whom she met on Instagram and wants to have four babies with. How is it gonna work? IDK but all I know is that she will carry two babies in her womb and Carolina will carry the other two. No more Q's please coz i don't have the A's yet.
Her Fashion is on fire
Hennessy has impeccable taste and an Instagram full of receipts to prove it. And speaking of her Instagram, go ahead and become one of her 2.1 million followers.
Oh, and FYI she's in fashion school at FIT, and has huge goals: "My dream customer is every celebrity that's on the red carpet. Everybody at the Met Gala and on top of that, just everybody and anybody. I would dress everybody."
Are you more of a Cardi or a Hennessy?