Kenyan men, compe ni compe . The standards have been set. Staging a marriage proposal these days is no easy feat. With the way men all over are stepping up, it is hard to have ideas that can keep up.
This past weekend a Chinese artist took the gold medal for best proposals. He Zi received the shock of her life when teammate and boyfriend Qin Kai rushed up with a diamond ring during the medal ceremony of the women's 3 meter springboard event
Qin, who won a bronze medal in his own synchronized diving event last week, climbed up to the stage after He received her silver medal, getting down on one knee while holding a red box with the ring and a glass-encased rose.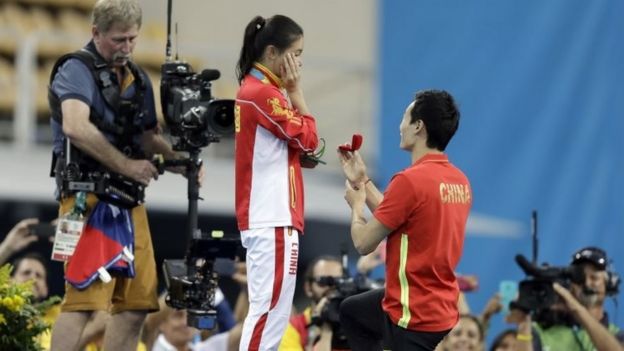 "I didn't know he would propose today and I didn't expect myself to marry myself out so early," said He, as she tearfully accepted the proposal with a big hug.
The 25-year-old has been dating the 30-year-old Qin for the past six years.