The four lads walked into the room, with their manager, Marek, right behind them, like he has been for the last few years. They are all smiles and so eager to spill the latest tea on their music and adventures.
What most of y'all are not aware of is that Sauti Sol is not just a band anymore. There is Sauti Sol Entertainment which is the business behind the art. It is amazing to see how these young talented gentlemen have transformed their music into business.
Back to the interview..Bien, Savara, Polycarp and Chimano are as humble and down to earth as they come. When interacting with them, you feel as though you have been friends for ages. I must say that is an exemplary quality to have as a super star.
In a few hours they are about to have what they refer to as one of their biggest shows yet. They have not performed a concert in Kenya for a while now. The Live and Die in Afrika Album launch is going down tonight at The Ngong Racecourse
Their dream for tonight's concert is , according to Bien
"We wanna bring the Live and Die in Afrika experience to our fans, this show we feel is just the beginning for us as a band. Because we not only wanna take over Africa but the world as well. And what better place to start than right here, in our home"
I was very excited to ask what inspired them to name their album Live and Die in Afrika:( Important fact: Afrika spelt with a K is how Africa was originally spelt, the Africa with a C is the new spelling the colonialists gave the continent)
Mudigi was quick to answer this question…
"We have traveled all over Europe, done shows in The States, and we have seen it all.  And the one thing we picked from all these travels is that Africa is really loved by many, apart from Africans themselves. Living and dying in Afrika is not literally living and dying here physically. It is a state of mind. It is about loving what is ours, loving who we are as Africans. Even Marek here has that state of mind. We need to bring back the love to Africa. And the best way we can do this is through our music and art"
Now the second other more pressing question in my mind..Is Bien finally taken, for real, judging by some of the pics he has been posting, like the one below

Bien was not coy at all when he answered the question.
I like it when you media guys can deduce things for yourselves. Fill in the gaps and create the buzz around my personal life, I want that, I need that and we need it. As a band need to grow the showbiz culture here in Kenya..If I  post a pic of me next to a nice moti..please write that I just bought a new car..hahahahaha that is what we live for…
Mudigi was quick to add….
You guys should see how huge the showbiz industry is in Tanzania and Nigeria. Their fans are so obsessed with their artists, they want to know every detail about their lives. We Kenyans need to realize that this is the only way we can grow the showbiz industry in Kenya. I cannot wait for the day that we can see a flock of photographers standing outside a shopping mall waiting to spot a local celeb. Growing the showbiz industry will help both the media and celebrities….
Despite the limited time with the funny quartet it was a fun filled interview full of laughter and passion.
Be sure to make your way to Ngong Racecourse today evening from 7pm. The lads are guaranteed to keep you on your feet for at least two hours. Let's support our own. It's all about Live and Die in Afrika !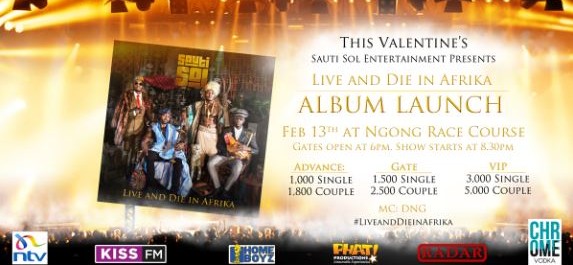 -Kat Mirero